or How Did I End Up Here?
Venice is a city unlike any other. All cities have their unique identities, but mostly they are variations on a theme. Most cities have entire neighborhoods that you could transplant into another city with no changes. At no point in my rambles did I ever feel like I could be anywhere else but in Venice. And I almost didn't go. As a child, I dreamt of visiting Venice, but in the last decade or so, I took it off my "must see" list. Pictures of the cruise ships and the crowds convinced me that the experience wouldn't live up to my dreams.
For the last 5 years, my plan had been that once Buster passed away, I would go to Chiang Mai, Thailand, for a year. This has been my grief therapy plan since his pancreas first tried to kill him back in 2017. When he shuffled off his mortal coil in May, Thailand wasn't a good option. My old boss at Edge of the World Tours in San Francisco invited me to return and spend the summer giving wine tours in Sonoma Valley. In three months, I earned enough money to pay off the credit card debt I gained in Buster's last days, plus enough to finance a modest trip around the world for the next 8 months. It also gave me a chance to figure out where to go next.
Where Would You Go, If You Could Go Anywhere?
It was tough deciding where to go first when I had the entire world to choose from. It was tougher with COVID constantly closing down locations, and which countries you could travel to and from. A problem likely to hound vagabonds for years. My plans changed many times during the summer. Not surprising to those who know me. I think the only reason I like to plan is so I have something to change.
For a fair amount of time, I planned on spending 3 days in Venice, 3 days in Florence, and 3 days in Rome. I came up with this idea after watching 2 of my favorite travel vloggers, Kara and Nate, return to Rome in July. They contrasted that with their experience visiting in 2017, when the line into the Coliseum was 3 hours long. This time, they walked right in. The city was practically empty compared to recent years. That's what got me thinking that now might be the ideal time to visit Italy. I decided to stick with a week in Venice rather than running all over so that I could really appreciate my time there. I'm so happy I made that choice.
There's No Place Like Home.
My time in Venice touched me profoundly. I haven't been in a place that felt like home in years. I fell deeply in love with Venice and I wanted to stay there forever. Which would end the ramble-my-way-around-the-world plan. Lucky for me, I'm poor. I moved on, planning on taking trains from Venice to Istanbul, with stops in Bolzano and Vienna to visit friends.
If (when?) I decide to settle in Venice, I will have to get my gemstone carving workshop set up again. For almost 20 years, my business was carving emerald, sapphire, jade, and rock crystal. The designs that resonate most in my soul are Celtic and heraldic designs. One of my favorite pieces is a quartz crystal in which I carved the Lion of St. Mark from the Book of Kells. This is the symbol of Venice. I can just see myself carving a whole series based on these designs.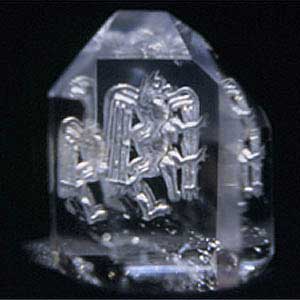 While I don't see myself settling down soon, on the trains from Venice to Bolzano, I came up with several ideas about how I could carve gemstones while living out of a suitcase and traipsing around the world. Doing so will require some setup, but I've taken the first steps already. It could happen. I'm exciting by the prospect.